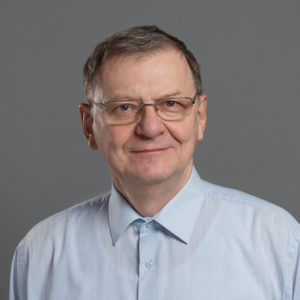 Academic staff - Associate Professor
doc. Ing. Stanislav Kafka, CSc.
Department of Chemistry
E-mail:
kafka@utb.cz
TEL: +420 576 031 107
Office:
U15/410
U15/423 - tel: +420 576 031 115
Author identifiers
Doc. Ing. Stanislav Kafka, CSc. is continuously engaged in pedagogical and scientific research activities since the end of his scientific training in 1982.  As a teacher, he taught and teaches a number of subjects from general, inorganic and especially organic chemistry. His research activities are focused on the synthesis and reactivity of organic compounds, especially derivatives of nitrogen heterocycles.
---
Teaching
Consulting hours
Čtvrtek 8:00-10.00
---
Curriculum vitae
Education
1978-1982: Prague Institute of Chemical Technology, Faculty of Chemical Technology, field Organic chemistry, scientific training, CSc.
1973-1978: Prague Institute of Chemical Technology, Faculty of Chemical Technology, field Organic technology, Ing.
1969-1973:

Secondary Technical School of Chemistry

in Gottwaldov
Internships and study stays
1985-1986 (5 months): Edvard Kardelj University in Ljubljana, Yugoslavia, post-doctoral fellowship
1991-1992 (5 months): Karl-Franzens University in Graz, Austria,

post-doctoral fellowship within the program Schwerpunktzone

1992-1993 (6 months): Karl-Franzens University in Graz, Austria,

post-doctoral fellowship within the program Schwerpunktzone

1996 (3 months): University of Ljubljana, Slovenia, scientific fellowship
Process of employment
1997: Brno University of Technology/Tomas Bata University in Zlin, Faculty of Technology, Academic staff - Associate Professor; 2000-2003 vice-dean; 2013-2016 head of the Department of Chemistry
1986 - 1997: Brno University of Technology, Faculty of Technology based in Zlín,

Assistant Professor

1983 - 1986: Prague Institute of Chemical Technology, Faculty of Chemical Technology,

Assistant Professor

1982 - 1983: Prague Institute of Chemical Technology, Faculty of Chemical Technology, Professional staff
Membership of expert organizations
Czech Chemical Society, member since 1980, committee member of the Working Group Organic, bioorganic and pharmaceutical chemistry 1998-2010, Zlín Local Branch chairman since 2006, Board of the society member 2009 – 2013, committee member of the Working Group Analytical chemistry since 2017
Czech Society of Industrial Chemistry, Rubber Group Zlín, member since 2001
International Society of Heterocyclic Chemistry, člen 1999 – 2012
Membership of bodies
Rada studijního programu pro oblast vzdělávání Potravinářství, člen od 2017
Rada studijních programů Fakulty technologické, člen v 2016
Oborová rada doktorského studijního oboru 2808V009 Chemie a technologie materiálů ve studijním programu P 2808 Chemie a technologie materiálů, člen od 2009, předseda 2012-2013 a od 2016
Komise pro státní rigorózní zkoušky na Přírodovědecké fakultě MU v Brně v  programu Chemie, obor Organická chemie, člen od 2016
Komise pro státní doktorské zkoušky a obhajoby disertačních prací v doktorském studijním programu Chemie, obor Organická chemie na Přírodovědecké fakultě MU, člen od 2009
Podoborová komise 203 Grantové agentury ČR, člen 2008-2009
Rada studijního programu Chemie a technologie materiálů na FT UTB, člen 2007-2011
Rada vysokých škol, delegát Fakulty technologické UTB a člen Komise pro vědeckou činnost, 2000-2011
Ediční rada pro vydávání vědeckých spisů VUT v Brně, člen 1997-2000
---
Creative activities
Publications
Project outputs