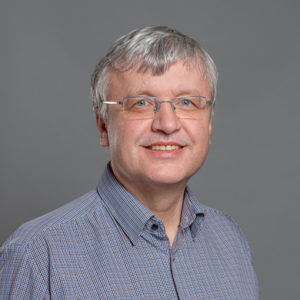 professor
prof. RNDr. Petr Ponížil, Ph.D.
Ústav fyz. a mat. inž.
E-mail:
ponizil@utb.cz
Mobile: +420 724 646 741
TEL: +420 576 035 114
Office:
U15/432
Author identifiers
He is working at the Department of Physics and Materials Engineering. In addition to the basic physics course, he also teaches the physics of solid state and  basics of statistical processing of measurement results in the subject of Experiment Processing. He specializes in computer simulations of material structures, image analysis and statistical data processing.
---
Teaching
Consulting hours
at any time after an agreement
---
Curriculum vitae
Education
1995 - 1999: Brno University of Technology, FT, Chemistry and Materials Technology, Technology of Macromolecular Substances, Ph.D.
1983 - 1988: UJEP (now MU) Brno, Faculty of Science, Physics of Solid State, RNDr.
1979 - 1983: Grammar School Kroměříž
Internships and study stays
2001: Technische Universität Dresden, Germany, study stay (6 months)
Process of employment
1988 - 1990: UJEP Brno (now MU Brno), Faculty of Science,  assistant professor of laboratory of silicon diagnostics
1990 - present:  Brno University of Technology (now Tomas Bata University in  Zlín), Faculty of Technology, assistant professor, since 2003 associate professor
Membership of bodies
2011 – 2015 Vice-Dean for Pedagogical Activities in Bachelor´s Studies
---
Creative activities
Publications
Project outputs