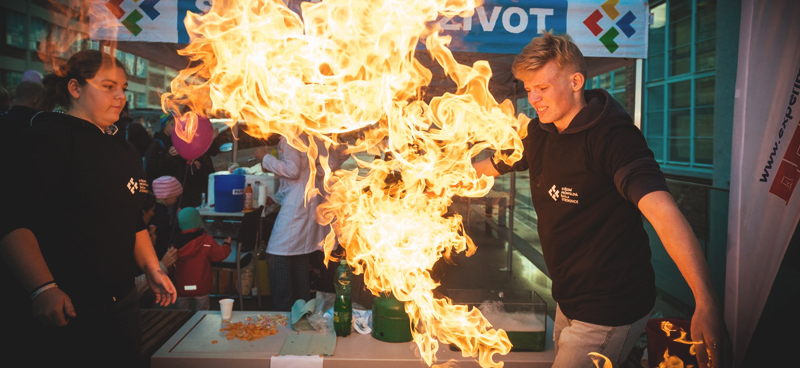 TBU Researchers' Night: 100 Years of Czech Science
The traditional Researchers' Night will be held on 5 October 2018, starting at 4pm.
The Faculty of Technology will be transformed into a Science Stage, whose programme will include a number of experiments and a RetroLab. The Science café lecture marathon will offer lectures on, for example, chemistry in supercomputers, measurements, the century of plastics, and the development of human nutrition. The Exit room has been designed to train your brains, while you may get some rest in the Relax room and watch movies produced at the Faculty of Multimedia Communications.
The premises of the 14|15 BATA INSTITUTE will house an exhibition by the Academy of Sciences entitled "Golden Czech Brains"; and a series of short lectures – 10 minutes about science – and interactive video mapping projection of the Křižík Fountain will take place there in the evening. The night music programme will feature the Jananas band.
In cooperation with the Researchers' Night, the Observatory Zlín as well as the Observatory and Planetarium Uherský Brod will open its doors to the general public and will offer special tours, celestial observations and a number of other activities.
Take a look at how we enjoyed the Researchers' Night last year: